First of all joining IMG Philippines (International Marketing Group Philippines) will mean earning knowledge about Financial Literacy, the company teaches people to become financially literate as well as to own their own business. IMG associates, trainers, MD and others are being trained to teach people on how to be financially literate. They are trained to teach and not only to get sales or commission to the people.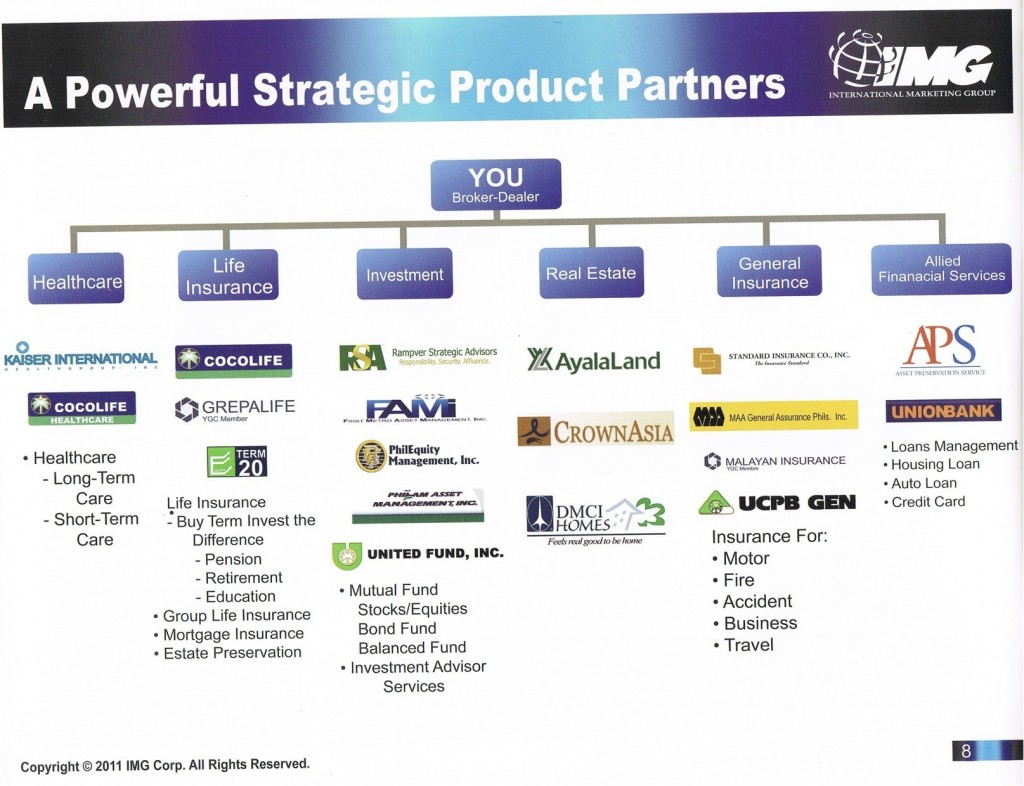 IMG Company Vision
To Build and Provide the Best Business Opportunity in the World
Our Plan is to revolutionize the financial services industry by bringing a fresh, new approach to empower the world on how money works.

Help people who desire to help themselves. Bring life-changing financial concepts and solutions to middle income individuals and families who are overlooked by financial services industry

I could say that if your main aim to join IMG is to earn fast, I think you need to go to other MLM company where they promised that you can earn even you are not working. In IMG (International Marketing Group) you will be trained in order for you to learn and own your own products and investment portfolio.

If you join, then you can practice what you preach since you yourself is part of the system who believes the capability of the company.
You may also earn from your own investment, as an example if you want to buy residential house from SMDC or Crown Asia, as an IMG member the commission which was supposed to be given to the agent will be given to you and you can used to increase your asset in your other investment portfolio.
You will also get commission for every Kaiser or Long Term Health Care product being sold, and if you beat the challenge of the company, your commission increases while you are getting promoted.
When your group is becoming big, chances are you are going to be promoted and be the CEO (Chief Executive Officer) of your own group.
There are incentives that are being given to successful and dynamic leaders of their own respective group. The best thing in this business is that people will not hand you the money but they will just submit the papers to you and payment shall be made directly to the company. It shows that the client will be sure that agents will not use their money in something else just to find out later on that it was not remitted to the company.
In IMG you are helping people to be financially literate through a series of FREE seminars that they could attend as a member. Regular Free seminars are being conducted in the Philippines, so OFW can set some of their time while in Philippines. However trained IMG member is also willing to help you wherever you are since there are lots of IMG member all over the world who would like to share their knowledge and experience in the Financial Literacy journey.
At IMG, you can help make a difference for families by showing them a new path toward achieving their financial goals. No Family Left Behind
As you look at the current industry, it is as outdated as dinosaurs. Their system did not change for almost 100 years. With managers and agents, bosses and employees, they can't compete with the business-driven, independent entrepreneur.
The new builders are entrepreneurs, not employees. They wake up every day thinking how to grow their business while agents in the old system worry about fulfilling their quotas for their managers.
Builders also always look out for the best products in the marketplace for the clients. They don't have to be captive to their employer's company products….BE an ENTREPRENEUR!!!
IMG Compensation Scheme
Here are some point to understand about the compensation scheme of IMG
1. ENTREPRENEUR:  You build your own business. You are not working for an insurance or investment company.
2. NO QUOTA: You work at your own pace, on your own time. It's flexible.
3. UNLIMITED TERRITORY AND INCOME: You can build as big as you want, in any place, all over the world, even in USA and in Canada.
Build Direct:       You recruit, train and build your team.
Build Indirect:   You can take advantage of Match Up and Referrals You can refer people to other builders or: You can join forces with other builders in different cities
4. OPEN SYSTEM: You are non-captive agent. You have access to major investment and insurance companies to provide the best products and solutions to consumers (e.g., Ayala Land, Crown Asia, SMDC, DMCI, FAMI (Mutual Funds), PAMI (Mutual Funds), PhilEquity (Mutual Funds), Kaiser (Long Term Health Care), Cocolife (insurance), Grepalife (insurance), Standard, MAFRE, etc.)
Right place, Right time, Right solution.
The great Recession profoundly impacted every section of the market. As a result, more and more people want to know:
1.  How to make more money
2.  How to make money work better for them, everyone needs to build and rebuild their career and their financial situation.
The Middle Class is fading. The Business Class is emerging.
I've heard once that a typical person encounters about 1 or 2 life changing opportunities in their lifetime. The question for me: Is this my first or is this my last chance?  You're standing at the largest market demand in the history of the world. People are looking for the solution. We have the answer.
It used to be the manufacturer who controlled the distribution.   Today, however, distribution controls the manufacturer.
Those who control distribution control the market. Take a look at Wal-Mart, Target, Costco and McDonalds's. They are distributors, and they control the manufacturers and suppliers.
In the financial industry, those who have more licensed agents will control the market and will control their future.
Remember: There are only 2 ways to make big money.
Either you have 1) a lot of money to make money for you, or 2) a lot of people to make money for you.
THE PRINCIPLE OF GIVING
IMG SYSTEM PROMOTES THE PRINCIPLE OF GIVING…
When we join the company, we give up the commission to our first product to the person who introduced us to the company.
When we start as Trainee Associate, we give up one half of our commission to our Trainer. We Learn and Earn as a Trainee Associate and we Match-Up   with the Trainer.
When we refer our friends to other Trainers, we give up ½ of our commission. But ½ is better than nothing.
When we get promoted to Marketing Director, we give up to our Up-line      MD our Strongest Leg. This is our way of saying "Thank You" to our MD.
"When you give, you open yourself up for an outpouring of blessings into your life…"