I just learned that FinanceManila.net has been acquired by ADVFN Plc ("ADVFN" or the "Company, for about Php 6 Million payable as PHP2.5 million in cash and PHP3.5 million inf new ADVFN shares of 1p each as reported in online.wsj.com.
"I am delighted to announce the acquisition of Finance Manila which, in my view, is the most exciting trader community in the Philippines. Financemanila.net hosts large, active investor communities, which I believe are a perfect match for ADVFN's premium subscription and advertising offerings. We will use the Investors Hub template we have developed in the US to take the site to the next level and accelerate ADVFN's planned expansion into the fast growing markets of Asia." said Clem Chambers, CEO of ADVFN.
Just to give you an idea about the traffic of financemanila.net I made a comparison with sulit.com through alexa graph pageviews/user. The graph shows the margin of difference when it comes to pageviews/user. It also shows that it has almost the same pageviews/user of sulit.com.ph, which another successful pinoy website that becomes a business venture.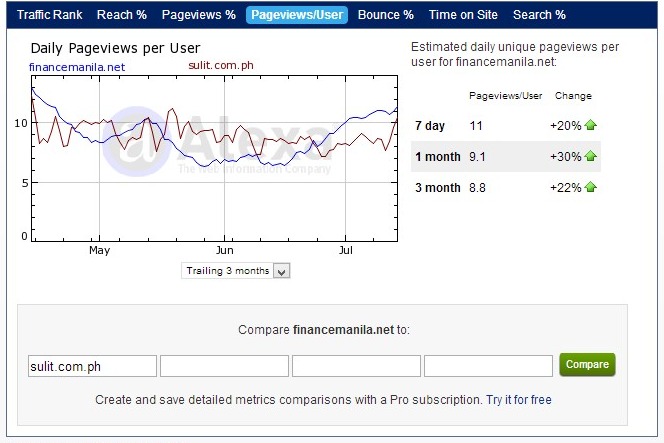 According to who.is, Finance Manila has been registered and become online since October 18, 2004. In just 9 years this website has attracted millions of visits per month and has a reported 2 Million Page Views per month.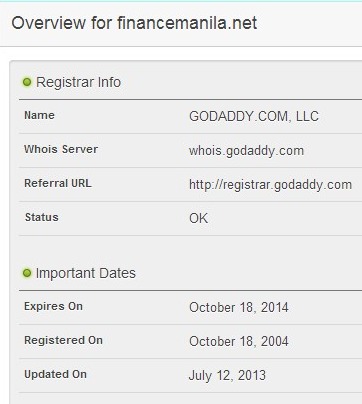 So is it a good buy? Let me do some calculation as follows:
2,000,000 Pageviews x 0.05 (Ad Clicks Rate) x $0.05 (cost per click) = $ 5,000 per month x Php 43/1 $ = Php 215,000 per month
So based on my calculation ADVFN can have its ROI for its cash payment in just a matter of 1 year, as long as the financemanila.net will hold its visitors or even increase its visitor. It is a good decision from ADVFN since  lots of Filipino are now starting to learn about Financial Literacy. This is story is another success stories of the those netrepreneur that started earlier than most of us.
Congrats to FinanceManila.net and to ADVFN partnership.