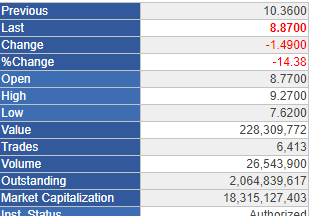 Recently water concessionaire is under fire from the Mr. President, citing some onerous provision in the agreement which was studied by the department of justice. Upon the public announcement of the president that he will puss through in persecuting those who are involve in this onerous agreement, all stocks directly connected to the water concessionaire falls downs. It doesn't matter if the stocks has a good fundamental or even following a certain technical analysis. It all goes own in "Sell on News". It's all about politics, when you are in stock market, you need to be aware of what is going on in the government. It will determine the price movements of the stocks.
Before the year end, The president says something against the water concessionaire that the government doesn't want to negotiate. Today, when the market opens, MWC falls down with a low of 7.62 from its closing of 10.36 last trading day. 26.44% down from the closing date of the last trading day. Before the trading breaks at noon, it closes at 8.87 which is about 16.41% higher from the bottom.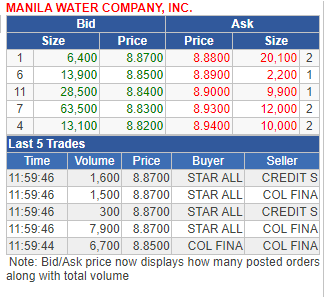 Stock market is risky, but by studying your moves and managing your risk, you will be able to gain with this kind of trades.
If you want to be involve in this kind of stock, you need to be updated with what is being mentioned in the news. It might give you a very high gain or vice versa very high loss.