Today, AXA Philippines and Metrobank  launches MSwipe, the country's first mobile insurance payment system. MSwipe allows AXA customers to make real-time credit card payment transactions using mobile devices such as smartphones or tablet devices, giving them an innovative, convenient and secure means of paying their life insurance premiums anytime, anywhere according to a report made by GMA Network.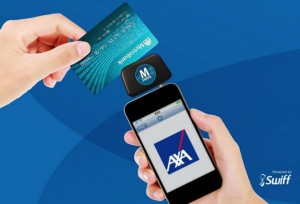 This new innovation called, MSwipe will enable AXA financial advisors to use their registered smartphones and tablets to receive credit card payments for their customers' premiums.
A good news for AXA customers since they will not need to carry cash or checkbooks in paying. But credit card users, needs to make sure that they will have to pay their credit card payment on time or else, this system will make them into debt if not handled properly.
It always good to have a new technology but users need to be aware on how to use it properly.