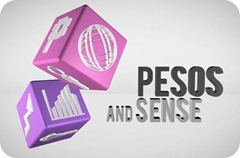 Learning about investing can be done through reading and Watching Videos.
I have informed you before that I am part of the Facebook group called TGFI (The Global Filipino Investors ). The group members is helping me to learn new things about Stock Market as well as importance of insurance. Today I have seen a collection of Youtube links for Pesos and Sense headed by Aya Laraya. I would like to give credit to Khristian Santos (TGFI Admin) for his research for this videos.
I believe that the below mentioned videos is a must see for newbies and those who are starting to invest.
Episode 1: Stock Market
Episode 2: Mutual Funds
Episode 3: Insurance/VULs
Part 1 | Part 2  Part 3 | Part 4
Episode 4: Scams
Episode 5: Starting Early
Episode 6: Budgeting and Personal Finance
Episode 7: Understanding Credit
Episode 8: Aya's Investment Diagram
Episode 9: Long Term vs. Short Term Investment
Episode 10: Insurance 2
Episode 11: OFW Investments
Episode 12: Social Cost of Investing
Episode 13: Diversification
Credit for Video and Image : http://pesosandsense.com/
Please Report any Broken Links and let me know your thoughts about the video.