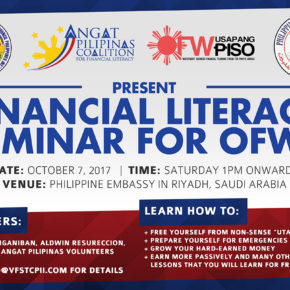 For the 4th Time,  will again teach in Philippine Embassy and this time it is a collaboration of  Angat Pilipinas Coalition and the Values Formation for Spiritual Transformation (VFSTCPII) . The event will happen on October 7, 2017 (Saturday) and OFW's in Riyadh are welcome. However, a Pre-registration is required to have a gate pass in the Diplomatic Quarters.
Registration is free but manadatory. Registration can be mage through this link. – https://goo.gl/FSxfiM
Speakers will be yours truly and Mr. Aldwin Resurreccion, a fellow volunteer of Angat Pilipinas Coalition. We will try to teach Filipino Community on how to handle their hard earned money.
Here is the Video of the Event: